No more wasting time drawing graphics! The Winding Ways template set (3 templates) allows you to create a variety of pleasing designs.Let's make a gorgeous classic the easy way!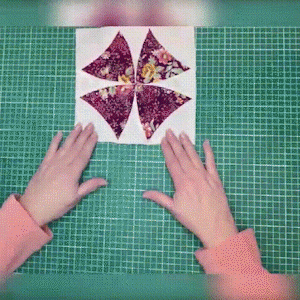 The blocks are set by alternating the light and dark backgrounds.The Winding Ways block creates large circles when blocks are set together.Sized to work well with 10-inch pre-cut squares, it's a nice complement to other 8 inch finished Slit 'N Sew shapes such as the Drunkard's Path and Melon.
Slits cut into pieces for easy and perfect alignment during piecing - each and every time. No tedious pinning or paper piecing saving lots of time and effort! Can be performed by all quilters, from beginner to expert!
This Winding Ways template set will give you countless inspirations and you will be like a magician turning out all kinds of beautiful quilt to decorate.
Specification:
Material: Acrylic 3mm Thick
Size: Finished Block
Small :6inch
Medium :8inch
Large :10ich
Package List:

Winding Ways Template Set + Manual